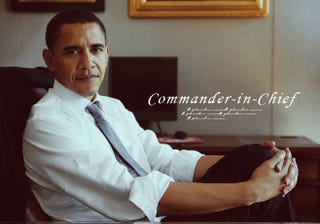 U.S. House Committee on Armed Services

The committee is aware of recent positive developments in developing low energy nuclear reactions (LENR), which produce ultra clean, low cost renewable energy that have strong national security implications.
...the committee directs the Secretary of Defense to provide a briefing on the military utility of recent U.S. industrial base LENR advancements to the House Committee on Armed Services by September 22, 2016.
See Low Energy Nuclear Reactions (LENR) Briefing, pg 87, "National Defense Authorization Act for Fiscal Year 2017"
President Obama Announces LENR to Congress 22 Sept. 2016
President Obama, as the Commander in Chief of the US Department of Defense, is ultimately responsible for this briefing.
This literally means that President Obama will be announcing emergent LENR energy before his end of term, claiming this as part of his legacy.
Given the earth shattering importance of LENR energy, one would think he will give a speech when the report is released.
I can imagine how his speech might go...
My fellow Americans

When I took office in 2008 I became aware of progress in US programs working to develop a new source of clean and safe nuclear dense energy which would make the United States the prime leader in solving many of the problems facing humanity today.

As Commander in Chief of the United States of America I was informed that development of this energy technology, and its application, was a matter of national security as important as the development of early atomic power…

And that we were on the cusp of understanding it.

Before I knew of this, back when I first accepted the 2008 democratic nomination...

I made a promise to the American people.

"That as president I will find ways to safely harness nuclear power."


I have kept that promise.

————

What's most important about low energy nuclear reaction energy…

Bear with me here a moment, and please keep it in mind.

This is a completely new and non radioactive form of nuclear power.

LENR energy is affordable and pollution free…

Powerful enough for all of our energy needs.

It will prove to transform the energy landscape of today.

I am here to announce our success and to present, along with the Secretary of the Department of Defense, a briefing on the military utility of recent U.S. industrial base LENR advancements to members of the U.S. House Committee on Armed Services.

Before presenting this report, and touching on its highlights, I want to thank the dedicated scientists who have brought this about.

I would not be here today…

Except through their efforts.

They have worked tirelessly on solving this puzzle...

Bringing us to this moment.

Often in obscurity and without fanfare or recognition.

Thankfully!

Scientists are a tenacious bunch...

Basically full of hope.

These people are deserving of our respect, admiration and gratitude.

————

During my 2012 victory speech I touched on stubbornness...

"I have always believed that hope is that stubborn thing inside us that insists, despite all the evidence to the contrary, that something better awaits us so long as we have the courage to keep reaching, to keep working, to keep fighting."

When tackling a difficult problem…

Like energy.

You must approach the problem from every angle.

When searching for a solution that isn't in sight...

One must explore every pathway.

To find the answers to the problems facing humanity today...

You must have a rod in every fire.

During my Presidency I was guided by the belief that science and technology will get us out of many of the binds we find ourselves in.

I have utilized the resources of the United States research labs and science programs in this endeavour...

Pursuing every available avenue to solve our energy and global warming problems.

Finally, one approach has led us to a viable answer.

Advanced LENR research and applied engineering...

Will solve all of these problems.

————

When I accepted the democratic nomination in 2012…

During my victory speech.

I asked for your help.

Now I want each of you to reflect on this once more...

"I'm asking you to rally around a set of goals for your country, goals in manufacturing, energy, education, national security and the deficit, real, achievable plans that will lead to new jobs, more opportunity and rebuild this economy on a stronger foundation."

The promise of LENR energy requires hard work to implement.

It requires American ingenuity and technical-know-how to adapt every energy using device to harvest the energetics of the low energy nuclear reactive environment. I know we can do this.

————

LENR is a disruptive technology.

The industries that presently provide us with the energy we need...

The nuclear, carbon and renewable energy industries of today.

Those forward investments that provide that our lights will turn on.

That ensure we have the energy and fuel for our transportation.

Energy for our industries.

Heating for our homes and schools.

The energy industries of today will become obsolete.

And should be phased out...

In a way that considers the return on those investments.

Of the hard earned dollars...

Committed to these energy technologies which are now at risk.

Short term problems arising from this will need to be solved.

Yet I am confident that Americans, working together...

Setting aside our partisan and special interest differences.

I am confident that we will rise to this challenge.

————

The United States of America will lead the world in adopting this epic source of energy.

The transition will take time…

It will also create jobs and bolster the economy all along the way.

In the end the savings in the expense of energy will be shared...

By everyone.

Applied correctly the world will be in better shape for our children…

And for generations to come.

Our hopes and dreams…

Our opportunity.

LENR energy will:

meet all U.S. energy needs

end carbon fuel dependence

curb greenhouse gas emissions

transmute the nuclear waste problem

provide a way forward for our space colonization goals

usher in a new energy era for all of humanity


Thank you members of Congress

Thank you my fellow Americans

U.S. LENR Technological Readiness
Most of the LENR briefing has probably already been written.

It should include elements from the following:
Any presentation to the U.S. House Committee on Armed Services would be amiss if it did not report on these developments, which have already been presented by the U.S. in international venues.
Consider the following and one figures that the U.S. would not have made these works publicly known unless the DoD has mastered and applied the technology, sufficient enough to secure superiority in the theater of war.
In November of 2009 the US Defense Intelligence Agency (DIA) published Defense Analysis Report DIA 8-0911-003 titled:
"Technological Forecast: Worldwide Research on Low-Energy Nuclear Reactions Increasing and Gaining Acceptance"
The 2009 DIA LENR report states:
"LENR power sources could produce the greatest transformation of the battlefield for U.S. forces...

Since the transition from horsepower to gasoline power."
That's a huge statement.

The DIA report was:

Prepared by: Beverly Barnhart, DIA/DI, Defense Warning Office. With contributions from: Dr. Patrick McDaniel, University of New Mexico; Dr. Pam Mosier-Boss, U.S. Navy SPAWAR/Pacific; Dr. Michael McKubre, SRI International; Mr. Lawrence Forsley, JWK International; and Dr. Louis DeChiaro, NSWC/Dahlgren. Coordinated with DIA/DRI, CPT, DWO, DOE/IN, US Navy SPAWAR/Pacific and U.S. NSWC/Dahlgren, VA.

Note that Dr. Louis DeChiaro is an author of that report.

Dr. Louis DeChiaro
...since 2009 has been performing investigations in LENR physics and supporting the EMC efforts of Branch Q51 at the Naval Surface Warfare Center, Dahlgren, VA. During the period 2010-2012 he was on special assignment at the Naval Research Labs, Washington, D.C. in their experimental LENR group.

-end quote
In that capacity he coordinated LENR research, patent application and applied engineering throughout multiple DoD/DoE and Naval laboratories, Navy SPAWAR/Pacific and NSWC/Dahlgren being the most significant.
NSWC/Dahlgren

As the largest DoD full spectrum energetics facility and leader in the Navy's energetics enterprise, NSWC Indian Head employs a workforce of more than 1,400, of which more than 850 are scientists, engineers, and technicians dedicated to developing and sustaining explosives, propellants, pyrotechnics, high-energy chemicals and their application to warfighting systems.

In addition, NSWC Indian Head has the largest concentration of PhDs working in Energetics in the WFC, including the highest number of synthesis chemists, detonation physicists and formulation scientists dedicated to the energetics National competency. - end quote
"LENR, ZPE, Graphene, Nanotechnology, Robotics,Virtual IT, Supercomputers, Artificial Intelligence, and Bioengineering; all these arts of science and advanced technologies are of interest in this document. Everyone working in these scientific fields should review this, envision the solution proposed by Dennis Bushnell, bring the issues forward in public forums and work together to create a world where people do not feel the need to go to war."
quote - gbgoble cold fusion now
Further reading gbgoble@kinja.com
Contact (510) 841-5367 gbgoble@gmail.com
Related articles
U.S. LENR Manhattan Project - U.S. Advanced LENR Technology
also
LENR NRNF Low Energy Nuclear Reaction Non Radioactive Nuclear Flight US and EU Applied Engineering
also
also
Contemporary LENR Technology Patents - Popularly Known as Cold Fusion Energy
Addendum 4 June 2016
Glenn Research Center - NASA
A search for 'fusion' at the NASA Technology Gateway yields this out of Glenn Research Center... "Methods and Apparatus for Enhanced Nuclear Reactions" Reference Number LEW-19366-1
Contact us for information about this technology
NASA Glenn Research Center
Innovation Projects Office
ttp@grc.nasa.gov

This is 'Cold Fusion' patented technology available for licensing. If you have an aerospace company, such as the asteroid mining companies Deep Space Industries or Planetary Resources, you can approach them (NASA) to purchase the technology, and then you will learn more about it.
Glenn Research Center is all about advanced space propulsion.

- LENR is all about enhanced nuclear reactions
- this is listed under fusion
- GRC presents aerospace LENR applied engineering and theory
- Method for Producing Heavy Electrons US 20110255645 A1 is a Glenn Research Center patent
- this will be part of what is presented in the US House and Means Committee 22 Sept. 2016 LENR DoD report

"Nuclear reactor consuming nuclear fuel that contains atoms of elements having a low atomic number and a low mass number" WO 2013108159 A1 is a patent by Alan Widom who works with GRC. It cites the GRC LENR patent.

U.S. Secretary of Defense
I got to wondering what the U.S. Secretary of Defense is like.

Found he was Under Secretary of Defense for Acquisition, Technology, and Logistics with more than $50 billion annually in R&D…
This was April 2009 to October 2011 during the:
Naval/SPAWAR LENR patent, Filing date 2007 Publication 2013

JWK/Global Energy Corporation Patent Filed 25 February 2009 (Naval licensing agreement) JWK/GEC GeNie Reactor Patent

Defense Intelligence Agency LENR Report 13 November 2009

LENR Spaceplanes NASA LaRC Contract 2010
Afterwards he was Deputy Secretary of Defense serving as the chief operating officer of the DOD overseeing more than $600 billion per year…
October 2011 to December 2013 during the:
'Deuterium Reactor' 2012 NSWC, Indian Head Division patent

'MPD Augmentation of a Thermal Air Rocket Utilizing Low Energy Nuclear Reactions' 2012 NASA Presentation

'Subsonic Ultra Green Aircraft Research Phase II: N+4 Advanced Concept Development' 2012 NASA Working Group

Since 2015 he has been the Secretary of Defense following:
'Impact of Advanced Energy Technologies on Aircraft Design' 2014 NASA Presentation

'The Application of LENR to Synergistic Mission Capabilities' AIAA Aviation 2014 NASA presentation

'Metal nanoparticles with a pre-selected number of atoms' 2014 Kidwell/US Navy patent granted

'LENR Phenomena and Potential Applications' 2015 report, Washington DC LENR group, Dr. Louis DeChiaro et. al.

'Low Energy Nuclear Reaction Aircraft' 2015 National Aeronautics Research Institute NARI/NASA

'Excess enthalpy upon pressurization of nanosized metals with deuterium' 2015 Kidwell/US Navy patent granted

'Methods and Apparatus for Enhanced Nuclear Reactions' 2016 Glenn Research Center available at technology licence gateway

He is a really bright fellow, a scientist. Impressive that Dr. Carter first received a B.A. double-major of Physics and Medieval History, Yale 1976. As a measure of his respect, note he was confirmed by the Senate by a vote of 93–5.
Now he is known as the 'Deputy Commander in Chief', second highest ranking U.S. military officer under direct command of the highest ranking officer, United States Commander in Chief President Obama.

One could say that the Ashton Baldwin "Ash" Carter DCC LENR report to the House Committee on Armed Services, due Sept. 22nd, is the President's report.


I think it will be a very positive report.
Ashton Baldwin "Ash" Carter (born September 24, 1954)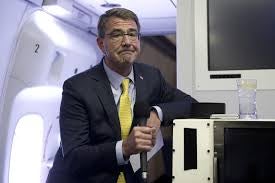 The United States Secretary of Defense
He is also a physicist and a former Harvard University professor of Science and International Affairs. Nominated by President Barack Obama, and confirmed by the Senate by a vote of 93–5, to replace Chuck Hagel as the US Secretary of Defense.
Carter received a B.A. in his double-major of Physics and Medieval History from Yale University, summa cum laude, in 1976. He then became a Rhodes Scholar and studied at the University of Oxford, from which he received his doctorate in Theoretical Physics in 1979. He worked on quantum chromodynamics, the quantum field theory that was then postulated to explain the behavior of nuclear reactions and the structure of subatomic particles. He was a postdoctoral fellow research associate in Theoretical Physics at Rockefeller University from 1979 to 1980, and a research fellow at the MIT Center for International Studies from 1982 to 1984.

Carter taught at Harvard University, beginning in 1986. He ultimately rose to become chair of the International & Global Affairs faculty, and Ford Foundation Professor of Science & International Affairs, at the Belfer Center for Science and International Affairs at Harvard's John F. Kennedy School of Government. Carter is author or co-author of 11 books and more than 100 articles on physics, technology, national security, and management.

Carter served as US Assistant Secretary of Defense for International Security Policy during President Clinton's first term, from 1993 to 1996, responsible for policy regarding the former Soviet states, strategic affairs, and nuclear weapons policy. He was Under Secretary of Defense for Acquisition, Technology, and Logistics from April 2009 to October 2011, with responsibility for procurement of all technology, systems, services, and supplies, bases and infrastructure, energy, and environment, and more than $50 billion annually in R&D. He was then Deputy Secretary of Defense from October 2011 to December 2013, serving as the chief operating officer of the DOD overseeing more than $600 billion per year and 2.4 million civilian and military personnel, and managing global 24/7 operations. He was confirmed unanimously by the U.S. Senate for both the number-two and number-three Pentagon positions.

For his service to national security, Carter has on five occasions been awarded the DOD Distinguished Public Service Medal. He has also received the CJCS Joint Distinguished Civilian Service Award, and the Defense Intelligence Medal for his contributions to Intelligence.